We Can Transport up to 8 Ambulatory (walking) Patients and 2 Wheelchair Patients in the Same Van for Group Outings



Medical Transportation & Wheelchair Assistance in Bradenton, Sarasota, Venice and North Port Florida
Doctors Transport Service provides wheelchair assistance and other forms of medical transportation to those in need in Sarasota, Florida. Our transportation services are known for their reliability, so you never have to worry about running late for your appointment.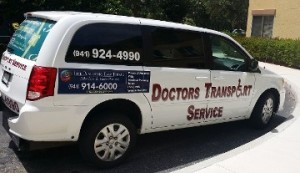 Non-Emergency Medical Transport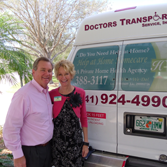 We extend our services to assisted living facilities, nursing homes, memory care units and hospitals. Special care is taken with wheelchair and stretcher transportation. Our reputation is impeccable after years of cultivating strong customer relations and dependable service.
Some Common Services
There are many reasons to get out of the house, and we're glad to be the ones that give you a lift. Here are some common requests that we fulfill:
• Appointments at Treatment
Centers
• Airport Drop-Off & Pick-Up
• Dialysis Treatment
• Outpatient Surgery
• Physical Therapy
Appointments
• Social Outings & Weddings
• Optometrist Visits
• Hospital Checkout
• Emergency Room Pickup
• Eating Out at Restaurants
• Local Events
• Stretcher Transport
• Dental Appointments
• Attending Religious Services
• Prescription Drug Pickup
• Shopping
• Family Outings
• Doctor's Appointments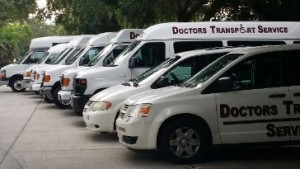 Contact us for any additional information about our transportation services based in Sarasota, Florida.